Sex health: Aberystwyth Uni clinic shut by staff shortage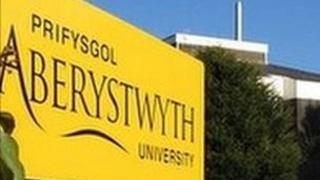 A sexual health clinic at Aberystwyth University has closed until the end of the year due to a lack of staff.
The decision by Hywel Dda Health Board has angered students, who have started a petition demanding it is reopened immediately.
The weekly service was launched at a campus welfare centre in February 2010, but it shut in August.
The health board said town GP surgeries provided sexual health clinics.
A spokeswoman said every effort was being made to recruit new staff for the university.
Students have also complained that health officials closed the service without consulting them.
The health board said students would not have been consulted because it was an operational decision, and the service could not continue without the staff.
The clinic offered them advice about contraception, sexually-transmitted diseases and check-ups.
The health board spokeswoman said: "Regrettably, the sexual health clinic at Aberystwyth University has been temporarily suspended until the end of the year due to staff shortages.
"Every effort is being made to recruit into the vacant posts and the health board hopes to be in a position to advertise shortly in order to re-staff the university clinic accordingly."
She said Padarn Surgery, opposite the main university campus, provided sexual health or GUM clinics, and contraception services specifically for registered students.
North Road Surgery in the town also provided GUM and family planning services, she added.
Hywel Dda Health Board has been experiencing staffing problems.
Earlier this year, a ward treating patients with mental health issues at Aberystwyth's Bronglais Hospital shut because of staffing problems.
'Unacceptable'
It said the future of Afallon ward was under continuous review, but it was unclear if it was shutting permanently or temporarily.
In August, Rhiannon ward was closed by Hywel Dda Health Board on two successive weekends due to staff shortages.
Laura Dickens, student support officer at Aberystwyth Students' Union, said: "They pulled the clinic, as with Afallon ward, outside of term time and without consulting students, which we think is unacceptable.
"The service was student specific and cuts to health services should not be happening in the town with such a large student population and such limited and dwindling health services."
Ceredigion MP Mark Williams said he had contacted Hywel Dda to voice his concerns and asked for the reopening of the clinic.