April Jones: Camper van convoy raises money for fund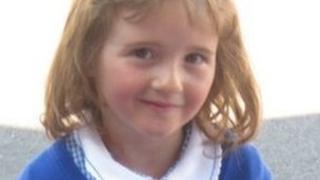 Around 30 camper vans decorated in pink ribbons drove through Carmarthenshire and Ceredigion on Sunday to raise money for the April Jones Fund.
Police are continuing to search for the five-year-old girl who was last seen in a street near her home in Machynlleth, Powys, on 1 October.
Mark Bridger, 46, has been charged with murder and child abduction.
The convoy collected donations in towns and villages along the route between Cross Hands and Aberystwyth.
Jason Young, from Llandeilo, organised the event and told the South Wales Evening Post: "There is a group of us who want to raise funds for the cause and we also want to raise awareness of April.
"It is very close to home and this is something that people can do to help.
"It is a cause close to my heart," he added.
"I have a 10-year-old and an 18-year-old and I don't know what I'd do if something happened to them."
Local businesses donated balloons and ribbon to the convoy.
In a separate event, wellwishers staged a charity walk and released pink balloons in support of April's fund at Penarth, Vale of Glamorgan.
Search
Meanwhile Dyfed-Police Police say a search of the area around April's home town continues at the "same level of intensity" as last week.
Officers confirmed that the search of the small market town was almost complete, and teams would now examine parts of the surrounding countryside.
A Dyfed-Powys Police spokesperson said: "Over the weekend the search for April Jones continues with teams carefully examining many different areas.
"The area in and around Machynlleth is large and we are continuing to put a huge level of resource into the search.
"As time passes and we work through the detailed plan, we will of course conclude our searches in particular areas.
"Whilst we have almost completed the searches in the town centre area, outside this small vicinity there is still a lot to do.
"The search continues at the same level of intensity that we have seen all last week."
Mark Bridger, 46, from Machynlleth, appeared in court on Wednesday accused of abducting and murdering April, and of unlawfully disposing of and concealing her body with intent to pervert the course of justice.
He is due to reappear in court on 11 January.