April Jones: Search focus shifts outside Machynlleth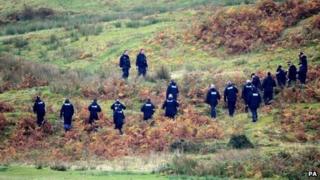 Police investigating the disappearance of April Jones say a search of the area around her home town continues at the "same level of intensity" as last week.
The five-year-old girl was last seen in a street near her home in Machynlleth, Powys, on 1 October.
Officers confirmed that the search of the small market town was almost complete, and teams would now examine parts of the surrounding countryside.
Mark Bridger, 46, has been charged with murder and child abduction.
A Dyfed-Powys Police spokesperson said: "Over the weekend the search for April Jones continues with teams carefully examining many different areas.
'Methodical search'
"The area in and around Machynlleth is large and we are continuing to put a huge level of resource into the search.
"As time passes and we work through the detailed plan, we will of course conclude our searches in particular areas.
"Whilst we have almost completed the searches in the town centre area, outside this small vicinity there is still a lot to do.
"The search continues at the same level of intensity that we have seen all last week.
"We have a number of areas and locations identified that require a detailed, methodical forensic search.
"To give an idea of the scale of the search, the area searched last week alone would take one person 8.9 years to complete on their own.
"We have expert teams from all over the UK assisting us, and this will continue whilst we have viable lines of enquiry to follow.
"We are continuing to support April's family at this difficult time with our specially trained officers and we are keeping them up to date on the search operation to find their daughter."
'Fresh eyes'
On Friday, Supt Ian John paid tribute to the hard work of his police colleagues and said the experience was "humbling".
Officers from across the UK, the ambulance service and coastguard are continuing to search for April.
Mr John said many of his officers were being allowed to rest but he welcomed the arrival of "fresh eyes and fresh legs" from other forces.
Mark Bridger, 46, from Machynlleth, appeared in court on Wednesday accused of abducting and murdering April, and of unlawfully disposing of and concealing her body with intent to pervert the course of justice.
He is due to reappear in court on 11 January.