Caramel spill turns Nant Creuddyn river brown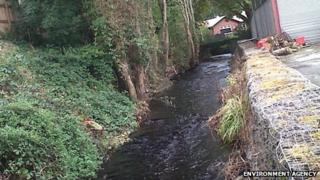 Environment officers are monitoring a stream near Lampeter after a tanker crash saw up to 6,000 litres of caramel food additive leak into the Nant Creuddyn in Ceredigion.
The spillage on Friday has turned the river water a dark brown colour.
The Environment Agency said the caramel is not toxic but it could affect oxygen levels which could have an impact for fish.
Officers hope fast currents will mean the caramel quickly disperses.
The incident followed an accident on the A482 near Lampeter involving a tanker.
A spokesperson from Environment Agency Wales said: "Although the food additive is not toxic in itself, it can affect oxygen levels in water which could have a negative impact on the fish population.
"The current high river flows are helping to disperse the liquid quickly, but we will continue to keep a close eye on the situation and will do everything we can to limit the impact of this accident on the local environment."