Aberystwyth University's 'swift' action on QAA report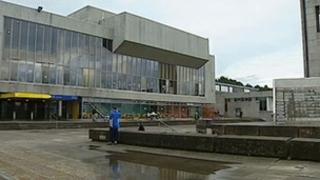 Aberystwyth University says it has improved the way it manages its relationships with other institutions after a critical report.
A body that monitors standards said it had "limited confidence" in one aspect of the university's work.
The Quality Assurance Agency (QAA) said overall it had confidence in academic standards at Aberystwyth.
But it found the university lacked a "sound framework" for managing collaboration with other institutions.
The university offers three higher education programmes through collaborative arrangements with UK partners and has eight arrangements with overseas bodies.
Professor John Grattan, pro vice-chancellor for student experience and international at Aberystwyth University, said: "We welcome the confidence expressed by QAA in our academic standards and the quality of the learning opportunities available to our students.
"We take seriously the limited confidence judgement reached in respect of the lack of formal management processes of our extremely limited range of collaborative provision and have moved swiftly to address this by adopting and enforcing best practice from the sector."