2nd Battalion The Royal Welsh: Soldiers in Bridgend march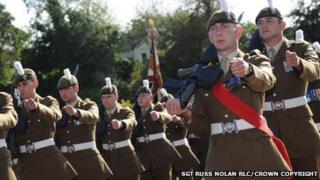 Soldiers from 2nd Battalion The Royal Welsh regiment have exercised their right to march through Bridgend with colours flying and bayonets fixed.
The Freedom of Bridgend was conferred on The Royal Welsh in August 2008.
The battalion's Fire Support Company and the Band of the Prince of Wales Division were clapped and cheered as they marched through the town.
A number of soldiers from the Bridgend area have been killed on active service in recent years.
Around 130 troops took part in the event, led by Shenkin and Taffy the Regimental Goats and the respective Goat Majors.
Army cadets and ex-servicemen from the county also took part.
Colonel Huw Lloyd-Jones MBE told the crowd: "It's a very great honour and privilege that we are back here in Bridgend since the Freedom of the County was conferred on us.
"We promise to go wherever you send us and do whatever you require of us, to risk our lives in the nation's interest.
"What we look for in exchange is for you to remember us in your prayers, support us and look after us when we return."
The battalion deployed as sub-units to Afghanistan from 2009 to 2011, although more recently it has provided training for troops deploying to Operation Herrick.
Fire Support Company was one of three units making up the battalion, which recruits from around Wales although it is based in Tidworth, Wiltshire.
Having the freedom of the the town means the battalion is allowed to parade with colours flying, bayonets fixed, drums beating and bands playing.
The parade went through Queen Street, Caroline Street, Adare Street and Wyndham Street before ending at Bridgend Recreation Centre.
Bridgend mayor Marlene Thomas told the troops the county was "proud to be associated with you" as she reaffirmed the freedom of the borough.
"Since we were last together you have helped make the London 2012 Olympics and Paralympics the safe and successful events they proved to be and have served with courage and distinction in Afghanistan.
"But we do not forget your distinguished history in other conflicts, not least Iraq where our own Private Craig Barber from Ogmore Vale lost his life in the line of duty.
"We are pleased to once again welcome Private Barber's family back to this event and pledge our eternal gratitude for this ultimate sacrifice."
L/Cpl Lewis Bradbury from Bridgend, whose family were watching the parade, said: "It is a proud feeling marching in front of your family and it means a lot being back in your home town.
"You can see that people really appreciate you. It's great to get all the claps and the cheers and to see everyone supporting us.
"I also took part in the initial freedom parade, here in Bridgend, not long after I started in the battalion and these events mean a lot to the boys."
Tribute
Welsh Guardsman L/Cpl Dane Elson, 22, from Bridgend, died in July 2009 when he trod on an improvised explosive device (IED) in an area of Helmand Province in Afghanistan that had already been swept twice for mines.
L/Sgt Tobie Fasfous, from Bridgend, of 1st Battalion Welsh Guards, died on a routine foot patrol in Gereshk on April 2009.
And the ceremony at which 2nd Battalion The Royal Welsh received the freedom of the borough saw a poem read in tribute to Pte Craig Barber, 20, from Ogmore Vale, Bridgend.
Pte Barber, of 2nd Battalion, was killed in Basra, Iraq, a year earlier after he was hit by a ricocheting bullet while he drove a Warrior armoured vehicle during a night operation.