NFU Cymru urges river dredging to avoid floods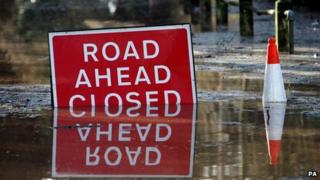 Failure by the Environment Agency to regularly dredge rivers could be increasing the risk of flooding, claim farmers.
The National Farmers' Union (NFU) urged the agency to resume full-time dredging after Wales endured one of its wettest summers on record.
But the agency said dredging rivers on a regular basis was not always effective at reducing flooding.
The Met Office has said it was the wettest summer in the UK for 100 years.
The unseasonal weather led to the damage of homes and businesses in Ceredigion in June, while a number of summer shows in Wales were cancelled.
In August, the Met Office said June was the wettest month in Wales with 205mm of rain falling, compared to the monthly average of 85.8mm
Farmers at a NFU Cymru branch meeting in north Powys said those living in the Dyfi Estuary, near Machynlleth, and on the banks of the River Severn, has asked why the rivers were no longer being dredged.
Hugh Besent, who farms in Pennal, near Machynlleth, said his land was regularly flooded.
"There's no doubt that the Environment Agency's failure to dredge rivers is increasing the risk of flooding," he said.
"When the water comes down the River Sychan, where I am, it floods straight away, it has nowhere to go.
"The Sychan is full of too many stones, while there is too much sand in the Dyfi Estuary in Aberdyfi, which is leading to problems."
Edward Chapman, chairman of NFU Cymru's Montgomeryshire branch, said his land near the River Severn had been flooded many times.
"All the rivers used to be dredged but why don't they do it now?," he said.
"I expect as with many other things it's down to money but I believe not dredging actually costs them much more in the long run.
'Flood risk'
"I believe that the numerous occasions of excessive rainfall and consequent flooding experienced this year, and indeed in recent years, could be much better absorbed naturally by our rivers and estuaries if they were regularly maintained in terms of the dredging of sand and the removal of grit and other debris."
Mr Chapman said farmers regularly cleaned out their field drainage ditches to avoid blockages, and the same should apply to rivers.
An Environment Agency Wales spokeswoman said: "We will always remove any blockages in a river which we believe may pose a flood risk to people's homes or businesses.
"Unfortunately, dredging our rivers on a regular basis is not always effective at reducing flooding as many rivers quickly silt up again as part of their natural processes.
"We therefore focus our efforts on dredging at those locations where it is cost effective and has a proven benefit of reducing flood risk."