Cantref farm, Brecon: E. coli from one source - Public Health Wales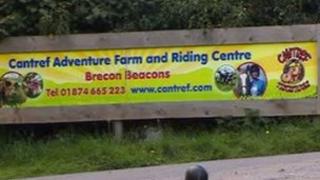 Officials investigating an outbreak of E. coli O157 which may be linked to a petting farm say two children acquired the illness from the same source.
Both children, one from Ceredigion and one from Kent, visited Cantref Adventure Farm in Brecon, Powys, in the days before they became unwell.
Two other people, who are family members of one child, tested positive.
The farm has stopped direct contact between animals and the public as a precautionary measure.
Samples collected from animals at the farm are being tested.
Any confirmed E.coli O157 will then be compared with that from the affected people who visited the farm.
Both children, one from Ceredigion and one from Kent, are recovering at home.
Environmental health
Powys council's environmental health department, and those of Ceredigion and Kent, are working with Public Health Wales to investigate the outbreak.
Health officials say it is not uncommon for outbreaks of E.coli O157 to be associated with children having contact with farm animals.
The infection can also be contracted by eating contaminated food or drinking unpasteurised milk.
E.coli O157 causes severe diarrhoea, sometimes with blood in it, abdominal cramps and fever.
In children, it can cause kidney failure that can prove fatal.