Schmallenberg virus: First Welsh case in Ceredigion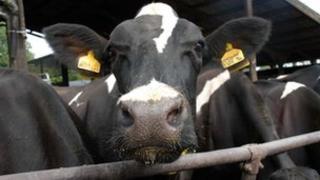 A virus affecting cattle, sheep and goats has been detected for the first time in Wales, the Welsh government has confirmed.
Schmallenberg virus (SBV) antibodies have been discovered in three cows and one calf on premises in Ceredigion.
SBV produces fever, diarrhoea and loss of milk production in adult cattle, though animals recover. It is thought to pose no risk to humans.
The disease was first seen last year in northern Europe.
It is named after the German town, about 50 miles (80km) east of Cologne, where it was identified.
Cases have been seen in Germany, the Netherlands, Belgium, Luxembourg, France and Italy. The Welsh government said SBV had been circulating in England since 2011.
The Farmers' Union of Wales described the outbreak as "very concerning".
The union said the history of the three affected animals suggested they were infected by SBV while on the holding, in Ceredigion, up to a year ago.
Schmallenberg has so far been seen in sheep, cattle and goats, and is thought to be carried by midges.
A Welsh government spokesperson said: "Schmallenberg, a new virus that affects cattle, sheep and goats, has been circulating in England since 2011.
"On the 22 September the disease was detected for the first time in Wales, and was found on premises in Ceredigion.
Deformed lambs
"Surveillance is continuing across Great Britain to establish the extent of spread of the virus and vaccine manufacturers are developing a vaccine, which should be available in the coming year. We would urge farmers to be vigilant in looking out for signs of this disease."
In adult sheep, infection is apparently symptomless.
However, when pregnant females are infected, the virus can damage the foetus, leading to a range of deformities at birth.
Catherine Nakielny of the Farmers' Union of Wales animal health and welfare committee chairman said farmers needed to be on the lookout for any unusually high animal abortion cases or congenital abnormalities - deformed lambs, swollen heads or weak lambs.
"They should report anything unusual to their veterinarian, especially given the recent developments," she added.