Newtown Market Hall: Heritage Lottery Fund awards grant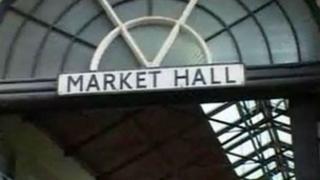 A run-down Grade II-listed market hall has received nearly £800,000 towards a major renovation project.
Work starts to refurbish the 150-year-old Newtown Market Hall in December, which had been under threat of closure.
The Heritage Lottery Fund (HLF) has awarded a grant of £790,300 to Mid Wales Food and Land Trust, which runs the building.
Owners Powys council said in 2008 it could no longer afford to maintain the old market.
But hundreds of people signed a petition calling for it to be kept open.
A year later a £3m plan was launched to save the market hall.
The HLF money will be used to restore the building and create a centre for small business and enterprise.
The hall's High Street facade will be refurbished and a mezzanine floor will be laid to provide office space for local producers, traders and businesses.
The project will also involve the local community through a wide range of activities, including working with nearby schools and the further education college Coleg Powys.
A programme of events and learning will help share the story of the building and its heritage.
Newtown mayor Val Howard welcomed the grant.
"The market hall is hugely important in Newtown and is responsible for a lot of jobs," she said.
"It is a focal point in the town and it will be sadly missed when it closes in December to be refurbished."
It is hoped the renovation project will help boost the town centre, which has suffered from long-running traffic problems and the economic downturn, according to officials in the past.
Community hub
Jennifer Stewart, head of HLF in Wales, said the grant for Newtown Market Hall would help bring the building back into regular use, by creating community and business hubs for the towns.
Another Grade II-listed market hall has also benefited from HLF money.
The Cawdor Hall Restoration Project in Newcastle Emlyn, Carmarthenshire, has been awarded £247,700.
Built as a market hall in 1892, it will be reconstructed to create a community hub for local people and visitors to learn about the history of the town.
Ms Stewart added: "As well as repairing these significant buildings, we were particularly impressed with both projects potential to move towards a sustainable future, to get people involved in learning about and caring for the buildings and to interpret them and their place within the community."