Cors Dyfi's osprey reserve gets £928,000 lotto grant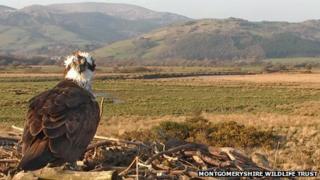 A nature reserve which is home to nesting ospreys has won a £928,000 lottery grant to help transform itself into a year-round attraction.
The money for Cors Dyfi near Machynlleth, Powys will be spent on a new observatory and a series of remote cameras in a project totalling £1.4m.
Four new posts will be created, including a new conservation officer and a learning officer.
Ospreys at the site have been featured on the BBC's Springwatch programme.
'Flagship'
Run by the Montgomeryshire Wildlife Trust (MWT), Cors Dyfi is at the heart of one of only two Unesco-designated biosphere reserves in the UK.
Unesco describes them as "sites for experimenting with and learning about sustainable development".
The grant from the Heritage Lottery Fund will allow the trust to improve and extend the reserve's potential as a visitor attraction under the Dyfi 360 banner.
It will also be helped by grants from the European Regional Development Fund and the Countryside Council for Wales.
MWT chief executive Estelle Bailey said the lottery grant transform Cors Dyfi into the "flagship" of its 20 reserves.
"We're absolutely delighted and thrilled at being given the opportunity to develop the site and secure its future," she said.
"People can come to the reserve and get closer to nature whilst at the same time learning about the wildlife and other features of the Dyfi estuary in a modern, friendly and bilingual manner. "
Ms Bailey said the money would be spent upgrading Cors Dyfi's basic infrastructure of boardwalks, information panels and viewing hide.
A new observatory will give a 360 degree view of the estuary, including the osprey nest, and new boardwalks and information boards will be installed.
The extra money will enable the site to open to visitors all year round, rather than March to September as at present.
A full-time learning officer will be appointed, along with a part-time conservation officer and an administrator, and project managers on a contract basis.
The conservation officer will take over the role of running the reserve's team of around 100 volunteers, with the aim of expanding the pool to 250 volunteers.
During the summer water buffalo graze the reserve, which is also home to otters, lizards and several species of birds including nightjar, reed and sedge warblers.
Millions of television viewers have followed the progress of the Dyfi ospreys via the BBC Springwatch programme, which in 2012 was based at the nearby Ynys-hir reserve.
Monty and Nora, one of only three pairs in Wales, produced three chicks in 2012 but two died in the torrential summer storms.
The surviving chick, named Ceulan after a local river, was tagged with a satellite transmitter and has just reached his wintering grounds in Senegal, west Africa, after a record breaking quick migration of 12 days.