Scottish Power blames cows and birds for Powys power cuts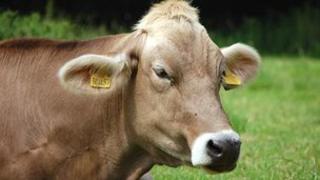 High winds usually cause power cuts, but one energy company is blaming cows and birds for a series of blackouts in rural Powys over the last few months.
Scottish Power said three separate faults had caused interruptions to 80 properties in Forden, near Welshpool.
Cows rubbing themselves on strain wires from a pole and birds gathering on top of another pole had caused problems.
Meanwhile, power cuts in Snowdonia have led to businesses demanding compensation from Scottish Power.
Beddgelert Tourism Association, representing 47 businesses, said the power cuts in August hit without warning often at busy times, and affected trade.
Scottish Power said the faults were weather-related.
In a letter to residents in Forden, Scottish Power's area manager for mid Wales, said the village's electricity problems had been fixed.
Apologising for the inconvenience, he said: "The incidents that have happened in your area would have caused short losses of power.
"There have been three separate faults that have been causing these short interruptions to your supply. The first we found was livestock rubbing on one of our strain wires from a pole, which was corrected.
Field of corn
"The second incident was relating to trees and these were cut back from the overhead line.
"At this point I believed we had cleared any further incidents from occurring, unfortunately the third major cause of the interruptions was due to birds gathering on a pole top and causing the trips."
He said work was carried out last Wednesday to stop the problem happening again.
Scottish Power said the birds had probably been attracted to the pole by a field of corn nearby.