Aberystwyth new road link and bus service launched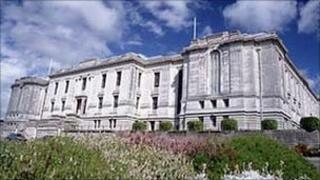 A new circular road route linking Aberystwyth University and the National Library of Wales has opened, along with a new bus service.
The road project cost £242,750 and received a grant of £192,750 from the Aberystwyth regeneration fund.
Meanwhile, the new 03 bus route runs three times an hour linking the national library, and the university's arts and sports centres with the town.
The Welsh government named the town as a regeneration area in October 2009.
It was awarded £10.3m in March 2010, which is being used on a variety of projects in the town.
The new road also includes a cycling and walking route.
'Safer environment'
Aberystwyth University's vice-chancellor Professor April McMahon said: "We're delighted with this new venture between the university and the library.
"Not only will it provide a better bus service for students, staff and the general public but it will provide a safer environment."
The new road was opened by regeneration minister Huw Lewis.
He said: "The Welsh government is committed to rejuvenating town centres and this project not only improves access for residents and visitors to key destinations in Aberystwyth, it also supports the town in promoting its varied culture."
During term time, the new bus service will circulate between town, the national library and the university every 20 minutes between Monday and Friday, and will cost £1 for adults and 50p for children.