Maisy Williams writes to MP over Llandrinio speeding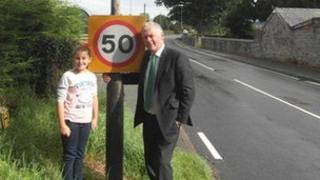 An MP has met a 10-year-old girl after she wrote to him raising concerns about cars speeding through her village.
Maisy Williams told Montgomeryshire MP Glyn Davies that many motorists were ignoring the 50mph (80kph) limit through Llandrinio, near Welshpool.
She was partly inspired to write to him after her pet cat and dog were hurt in road accidents.
Mr Davies said he would write to the police and council chiefs about Maisy's concerns.
The B4393 in Llandrinio runs through a built-up area.
Maisy contacted Mr Davies inviting him to the village to see the problem for himself.
"My dog and cat got run over and were hurt, that really upset me, and there's a care home for older people coming to the village," said Maisy.
She added that she was worried about crossing the road on her bicycle, with her brother Ben, because of the speeding vehicles.
"I've seen lots (of vehicles) breaking the speed limit since we moved here six years ago.
"I asked Mr Davies for help and he said he would get in touch with the police and the council."
After meeting Maisy and her family, Mr Davies said: "Maisy is absolutely correct to be worried about traffic speeding past her house.
"I am very pleased she has asked me to help. Having visited Maisy it's clear that some motorists are not observing the speed limit as they should."
Mr Davies said he would be raising the issue with the police and Powys council.