Co-op Machynlleth expansion after Tesco head-to-head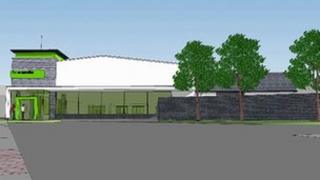 The Co-operative is to expand an existing store after going head-to-head with Tesco over supermarket plans in a small Powys town.
The Co-op has signed a deal to lease two parcels of land after securing planning permission in Machynlleth earlier this year.
Tesco also intends to build in the town and proposes to create about 150 jobs.
It resubmitted proposals for its store last year, and the Co-op responded with plans of its own.
Tesco withdrew its original application in Machynlleth in June 2010 after the Welsh government raised concerns about road safety. There have also been objections from some local people.
The Co-operative said leasing the two parcels of land was crucial to the expansion of its store.
The firm proposes extending it from 6,835 sq ft (635 sq m) to 14,000sqft (1,300 sq m).
The car park will be increased by 57 spaces, and there will be a new customer entrance facing the parking area. The store currently employs 50 people, and new jobs will be created but it is unclear at the moment how many.
James Rich, operations manager for The Co-op in Machynlleth, said: "We're really pleased to be one step closer to creating a new store that will be entirely tailored around the needs of the local community.
"While we realise the process has been a long one, we remain committed to making sure we provide the best possible service at our current store, during the building work and when the new story opens."
Building work is due to start early next year.
Tesco plans to create about 150 full and part-time jobs in Machynlleth.