Welshpool's motte and bailey castle tourism plan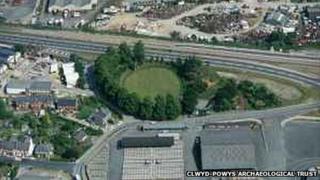 The site of a 12th Century castle - one of Welshpool's earliest settlements - could become a tourist attraction.
Proposals include clearing overgrown land so people can explore the motte and bailey in Welshpool and learn about its history.
The town council and Powys council are working together on the plan.
Some old Victorian railway sidings nearby could also be restored, while there are also plans for a tea room.
Welshpool town and county councillor Phil Pritchard described the motte and bailey site as a town treasure.
"It's overgrown a bit in parts, but I think if it was opened to the public it would be of huge benefit to the town as a tourist attraction," he added.
"We're hoping that European funding will be available for the project and it could be open by the end of next year."
Clwyd-Powys Archaeological Trust in Welshpool welcomed the plans.