Paralympian Josie Pearson's gold post box honour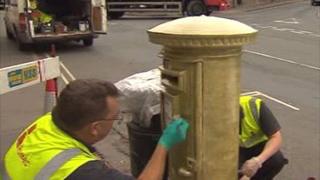 Paralympics F51 discus champion Josie Pearson has had a gold post box painted in her home town.
The 26-year-old, from Hay-on-Wye, Powys, broke the world record with a 6.8m throw in Friday's final to claim her first London 2012 Games gold.
She suffered spinal injuries in a car crash in 2003 which killed her boyfriend.
The post box was painted in Church Street and a gold medal stamp has been produced.
Royal Mail is painting post boxes gold and issuing stamps for all gold medal-winning Paralympians, as they did for the Olympians.
The stamps will be available within five working days at 500 post office branches around the UK.
An additional 4,700 post offices will receive the gold medal stamps within a week and they can also be purchased online.
Pearson was appearing in her second Paralympic Games after playing wheelchair rugby in Beijing four years ago.
She then focused on athletics, competing in wheelchair racing in the world championships last year before switching to discus.