Paralympics: Josie Pearson's gold and world record joy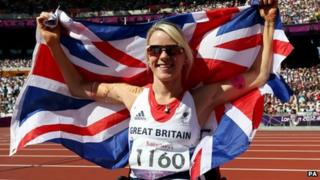 Paralympics F51 discus champion Josie Pearson says she is ecstatic at winning gold at the London 2012 Games with a world record 6.8m throw.
The 26-year-old from Hay-on-Wye, Powys, suffered spinal injuries in a car crash in 2003 which killed her boyfriend.
Pearson, who played wheelchair rugby in the last Paralympics said: "This is the culmination of so many years' hard work.
The surgeon who has helped Pearson also spoke of his pride in her win.
Prof Wagih el Masri, a consultant surgeon in spinal injuries at the Robert Jones and Agnes Hunt Orthopaedic Hospital in Oswestry, said: "I would just like to congratulate Josie Pearson.
"It's a fantastic achievement. I am delighted and I'm sure she will understand that my team in Oswestry and I are very proud of her.
"By winning this gold medal, she has given us the reward for looking after her."
Pearson, who was a keen horse rider, was 17 when she and four friends were involved in a car crash while on the way to Newport.
The car, being driven by her boyfriend, was involved in a head-on collision while overtaking and Pearson, who was not wearing a seat belt, broke her neck.
Prof el Masri added: "It was a privilege to be asked to look after her when she was first injured and we are still looking after her to this day.
"We always encourage our patients to participate and compete in sport if they want to. It's part of the treatment.
Stoke Mandeville Games
"They can only do that if they remain healthy and test themselves.
"I haven't had a chance to speak to Josie since she won but I'm going to try and get in touch."
Prof el Masri was one of the last students to be trained by the founder of the Paralympic movement.
Sir Ludwig Guttmann revolutionised treatment and life chances for those with spinal injuries at Stoke Mandeville Hospital.
He organised the first "Stoke Mandeville Games" - the forerunner of today's Paralympic Games to coincide with the start of the London Olympics in 1948.
"I've been in spinal injuries for 41 years and I was the last doctor he tutored," said Prof el Masri. "It was an honour.
"What is important with the Games is that they are as inspiring to able-bodied people as it is to those with spinal injuries."
It was inspiration that led Pearson to take up Paralympic sport, initially in wheelchair rugby at the Beijing Games, and was the first woman to compete in the sport.
She then focused on athletics, competing in wheelchair racing in the world championships last year before switching to discus.
"I was inspired by watching the Games in Athens after my accident and that inspired me to get into sport, then when we heard it was coming to London that inspired me even more," she said.
"To compete in front of a home crowd with everyone behind me has been absolutely amazing. I'm never ever going to forget this feeling in my life.
"I loved wheelchair rugby, but team sport just wasn't for me," she added. "I wanted to get back to an individual side of stuff and everything has paid off."
Professor Laura McAllister, chair of Sport Wales, said the achievement was "truly outstanding".
She added: "Josie is another example of an individual with talent and drive who has been nurtured through the coaching system we have in Wales.
Jon Morgan, chief executive of Disability Sport Wales said: "She is driven by the desire to do better and achieve her goals.
"This medal is a fitting reward for someone who watched the Athens Paralympics in 2004 and dreamed of competing in them. Now she has a fantastic gold medal as well."