Skyfall: Stunt driver Mark Higgins' James Bond licence to thrill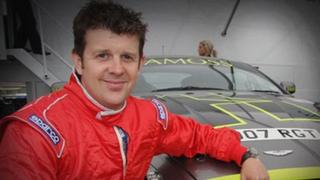 As he drives fast cars in exotic locations with beautiful women, rally star turned stunt driver Mark Higgins could be forgiven for thinking he's dreaming.
The three-time British rally champion has been working on the new James Bond adventure, Skyfall.
Swapping his racing suit for 007's tuxedo, he drove the secret agent's iconic Aston Martin DB5, while also doubling for a Bond girl: Naomie Harris, who plays British agent Eve.
If that didn't leave him shaken and stirred, Higgins, from Abermule, near Newtown, Powys, worked not only with Daniel Craig, but also a star of the small screen - Top Gear's former Stig, Ben Collins.
The 23rd film in the franchise, directed by Oscar winner Sam Mendes, is Craig's third outing as Bond, and has been winning rave reviews.
Higgins, 41, a father-of-two, was born on the Isle of Man and moved to mid Wales in 1993 when his family took over a rally school.
He later won the British rally championship three times. His brother David is also a leading rally driver.
It is Higgins's second Bond film after he filmed the opening sequences of Quantum of Solace in 2008.
Higgins was recruited for that movie, not by an MI6 spymaster, but by an equally mysterious character - BBC Top Gear's former Stig.
Talking about how he got the stunt driver role, Higgins said: "This came from Ben Collins, the Stig, who said he may have a job on a Bond film and they needed a rally driver for the opening scene of Quantum of Solace as there was a gravel sequence, and it's gone from there.
"I have worked with Ben for many years and we are together on a film now in Tenerife."
Higgins also worked on some of the opening sequences in Skyfall.
"We spent just over three months (filming) and spent time in Shanghai, London and Tenerife," said Higgins.
"The cars on this film have been quite diverse from Land Rovers to the beautiful DB5 which was a fantastic iconic car and a pleasure to drive."
But what about the dangers?
"Stunt driving is a team job, and you're only as good as the people and professionals around you," Higgins added.
"The driving is the natural part for me, but the camera sees different parts that change the whole dynamics of the driving.
"There are always some dangers, but the team works to reduce these with practice and professional stunt co-ordinators."
His favourite stunt involved a moving train and some VW Beetles.
'Very professional'
In the scene Bond is battling villain Patrice (Ola Rapace) on the train, while Higgins, playing Eve, drives a Land Rover on a track alongside.
"I played a few characters throughout the film and even Bond, but my main character was actually a female, Naomie Harris," he said.
"She was great to work with and her character gave me some great opportunities to perform some interesting stunts in the film.
"We have been lucky enough to work with most of the stars including Judi Dench and Daniel. They are both great to work with and very professional."
Higgins is currently working on the new movie Fast and Furious 6, and film commitments mean this has been the first time in years he has not used his rally competition licence.
But he intends to return to the sport next year, admitting that he misses it. "It would be great to combine both disciplines," Higgins said.
"Although when you commit to a film it is normally for several months, which restricts competition opportunities."