Nearly 20% of Powys roads in 'poor condition'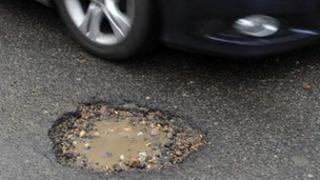 Nearly 20% of roads in Powys are said to be in a poor condition, with bad winter weather being blamed.
The Local Government Data Unit has compared standards between councils across a variety of areas such as roads, education and social services.
The unit said overall 13.5% of Welsh roads were in a poor condition, but Gwynedd boasted the best highways with just 6.4% classed in that category.
Powys council said it was investing £13m in roads over the next few years.
About 15% of roads in Ceredigion, Carmarthenshire and Wrexham are also poorly maintained, according to the report for 2011-12.
The Welsh Local Government Association (WLGA) said the condition of the roads was largely due to severe winter weather in recent years.
Councils spent £90m repairing 1.7 million potholes across Wales and England last year, said a survey published in March.
A report by the Asphalt Industry Alliance said it would take more than a decade to clear the backlog of repairs.
Potholes are formed when water runs through cracks in road surfaces, freezes and so expands, causing the surface to rupture and creating a void which later caves in under the weight of vehicles.
But the WLGA said road improvement schemes in Wales were set to receive a £60m boost from the local government borrowing initiative in 2012-13.
Two-thirds of the money will be spent on more than 1,200 road resurfacing or footway reconstruction projects.
Steve Holdaway, head of local and environmental services at Powys council, said: "Powys has a quarter of the road network in Wales with many of those unclassified and C class.
"The county council has recognised the investment required and through the Welsh government supported borrowing the council will be investing £13m in the network during this year and the next two financial years.
"We believe the investment will significantly improve the road network."
The WLGA said the Local Government Data Unit's figures showed overall local government performance had improved steadily during recent years.
But councillor Hugh Evans from Denbighshire, the WLGA spokesman for improvement and performance, said: "We recognise however that some service areas have seen a dip in performance and in some services there remain wide variations in performance that councils will need to examine and address."
A Welsh government spokesperson said maintaining and improving the conditions of local roads was a matter for each individual authority.
The Local Government Data Unit's report for 2010-11 showed that 6.6% of Wales' A roads and 7.9% of its B roads were in a "poor" condition.