School named after author T Llew Jones in Brynhoffnant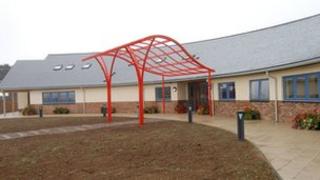 A new £5m primary school in Ceredigion has been named in honour of a late award-winning author.
Ysgol T Llew Jones has opened in Brynhoffnant, near Llandysul, and replaces four small schools.
Mr Jones, who died in January 2009, aged 93, was a Welsh language author from nearby Pontgarreg, and he had also been a head teacher.
He wrote more than 50 books, including 35 for children, in a career spanning more than 50 years.
Ceredigion council said Ysgol T Llew Jones was the second area school to be built in Ceredigion over the last three years.
It replaces primary schools at nearby Blaenporth, Glynarthen, Rhydlewis and Pontgarreg, where Mr Jones was from.
The new school will be used by the wider community as well children.
It has a large hall equipped with a stage, lighting and sound system for theatrical productions, an area for meetings and IT equipment.
Hag Harris, council cabinet member for education, said: "The facilities at the school are exceptional particularly the provision of a fully equipped hall. I am sure that the wider community will embrace the school and use it as an important community resource."
Author Mr Jones drew on local legends, characters and places and was described as a "great communicator".
He became the only person to win back-to-back chairs at the National Eisteddfod in the post-war era.