Walkers in Brecon Beacons to help halt spread of tree virus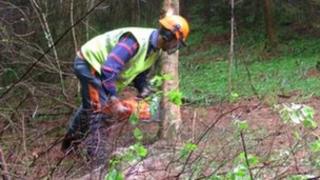 Walkers in the Brecon Beacons are being asked to help prevent the spread of a highly infectious tree disease.
A number of larch trees infected with phytophthora ramorum in a 120-acre (48 hectares) woodland are to be felled.
The disease is not harmful to humans or animals, but it is easily spread by walkers and cyclists.
Signs have been in erected in the affected areas advising people about how to prevent it spreading to other forests.
Brecon Beacons National Park said it would not block access to the woodland in the upper Taf Fechan and Talybont valleys for the time being, but it appealed to people to do everything they could to stop the disease spreading further.
The latest outbreak is the largest identified so far on Welsh government woodland estate in the national park.
Paul Sinnadurai, conservation manager for the Brecon Beacons National Park Authority, said: "Our wardens are working with Forestry Commission Wales to take all necessary precautions - cleaning clothes, boots and disinfecting too - when entering infected woodlands.
"We would urge visiting members of the public to follow Forestry Commission Wales' advice to brush down, brush off and wash off when you get home too.
"This fungal disease is known to be present within a few forestry plantations in south Wales and is known to attack other common plants like rhododendron and viburnum."
He added that the disease had the potential to mutate and could infect other plants.
Last year, a large block of larch trees adjacent to National Trust Wales-owned land at Pont ar Daf car park, popular with walkers climbing south Wales' highest mountain Pen y Fan, had to be prematurely felled after contracting the disease.
Phytophthora ramorum was first discovered in the UK in 2002.