Llandrindod Wells welcomes UK tug of war championships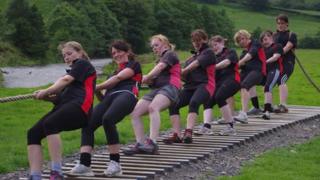 More than 400 competitors have taken part in one of Europe's biggest tug of war competitions in Powys.
Men and women competed across a variety of weight categories in the UK championships in Llandrindod Wells.
Teams from Wales, England, Scotland and Northern Ireland battled for medals and the winners were receiving them at a Saturday night dinner.
There will be an open competition on Sunday when teams from the Republic of Ireland are expected to compete.
It is the first time the UK championships have been held in Wales since 2004, when they were staged in Pentre Halkyn in Flintshire.
Organisers from the Welsh Tug of War Association are also expecting around 600 spectators in the Powys town.
Tracie Zembrzuski, who is taking part in the championships and is one of the organisers, said the competitors weighed in on Friday.
Ms Zembrzuski, 26, is a member of the Ithon Valley team from Llandrindod Wells.
There are four women's weight categories, five in the men's competition and eight people in each team. There are also mixed men's and women's teams.
"The UK championship is going to be a great advert for tug of war," said Ms Zembrzuski before the event.
"It'll raise the profile of the sport. We've had girls already approach us who are interested in taking part in the sport next year."
Ms Zembrzuski said her Ithon Valley team was the most northerly in Wales.
Fierce competition
"The majority of the competitions are in Pembrokeshire and Carmarthenshire, and because of that there are no teams in north Wales at the moment," she said.
"We've had support from Llandrindod Wells town council and the mayor Jeff Green is going to open the championships. Local businesses have sponsored the medals."
Following a day of fierce competition on Saturday, competitors were rewarded with a presentation dinner at a town hotel, attended by more than 300 people.
On Sunday, an open competition will see even more teams take part.