Dyfed-Powys Police Authority wants to keep helicopter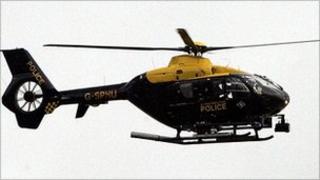 A police authority is lobbying to keep its helicopter, instead of it being replaced by a fixed-wing aircraft.
Dyfed-Powys Police Authority has told MPs that the size and rural nature of its force area makes a helicopter the best option.
It faces losing its own helicopter in 2014 under UK Government proposals for a National Police Air Service (NPAS).
The authority said the substantial area of coastline and mountains in mid and west Wales made it "crucial".
The UK government is planning for individual forces to stop operating their own helicopters, with fewer bases.
Instead, all forces would have access to helicopter support 24 hours a day, 365 days year.
But Gwyn Hopkins, chair of Dyfed Powys Police Authority, said he believes more consideration is needed to the geography of the force area.
Mr Hopkins recognised that a fixed-wing aircraft would be cheaper and give greater flight time but said the helicopter brought other advantages.
'Cheaper'
These include being able to land so a person can be arrested, locate a missing person or deal with a casualty.
It would not be able to hover, and would not be able to transport specialist officers such as firearms, dogs and negotiators, he added.
The authority has met with three MPs - Roger Williams, Brecon and Radnorshire; Mark Williams, Ceredigion and Simon Hart, Carmarthen West and South Pembrokeshire.
They have agreed to write to the Minister for Policing, Nick Herbert, outlining the authority's position.
In January, the Association of Chief Police Officers (Acpo) said the Dyfed-Powys helicopter would remain in service for the next two years.
Acpo said a trial of a fixed-wing aircraft would take place at a base in south Wales over the next two years.
At the time the UK government's policing minister Nick Herbert said: "The plan has the full support of Acpo and will give all forces access to helicopter support 24 hours a day, 365 days year - in contrast to the current system which sees some force helicopters grounded for days a time while they are being repaired."