All-rounder Max Woosnam capped career with Olympic gold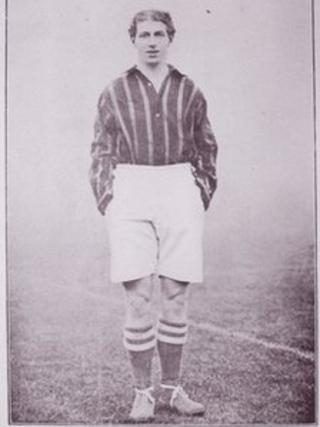 Is this Britain's greatest ever sportsman and one of Wales' finest Olympians?
Winning tennis gold and silver medals at the 1920 Olympics was the pinnacle of Max Woosnam's remarkable sporting career.
But it wasn't just the Olympics where the amateur all-rounder excelled.
He was also a Wimbledon doubles champion, hit a century at Lord's and played football for Manchester City and Chelsea.
The vicar's son who grew up in Aberhafesp, near Newtown, Powys, was also a scratch golfer.
He is said to have knocked in a maximum 147 snooker break, and played table tennis against Charlie Chaplin, beating him playing with a butter knife instead of a bat.
Woosnam's sporting career could have been taken from the pages of a Boys' Own adventure.
Few can match his achievements apart from Charles Burgess (CB) Fry, who was also a remarkably versatile sportsman.
Fry, born in 1872, was a champion long jumper, captained the England cricket team, played rugby for Oxford and the Barbarians and football for Southampton and England.
Modest hero
In comparison, Woosnam's life as a sportsman was little known until journalist Mick Collins wrote a book about him.
Woosnam was born in Liverpool in 1892, where his father was a vicar. Woosnam moved to Aberhafesp as a child where his family had its roots, and his father became canon of the local church.
The young Woosnam later went to Winchester College where he set about making and breaking sporting records.
It was as a schoolboy that he scored 144 against the MCC at Lord's, while playing for a public schools XI.
At Trinity College, Cambridge, he became a tennis, golf, cricket and football Blue.
"I suppose winning Olympic gold was the pinnacle of Max's career," said Mr Collins.
But he said Woosnam himself said "very, very little about what he achieved".
"He never received a penny for what he did," added Mr Collins.
"He was an amateur sportsman and considered it the height of bad manners to talk about himself - he thought it was appalling vanity."
After Cambridge Woosnam played for Corinthians, the successful amateur football team of the period, and Chelsea.
It was while on tour with Corinthians in 1914 that war was declared. Having just docked in Brazil, the team set sail for home.
War veteran
Aged 22, Woosnam enlisted with the Montgomeryshire Yeomanry and is understood to have later joined the Royal Welch Fusiliers, serving in the Gallipoli campaign.
He also served in the trenches of France with poet Siegfried Sassoon.
After the war, in 1919, Woosnam joined Manchester City, where he played centre half and later captained the team.
But the pinnacle of his sporting success came a year later in 1920 at the Antwerp Olympics. He won a tennis gold in the men's doubles and a silver in the mixed - both on the same day.
The following year he led Manchester City to second in the old first division and the same year won a Wimbledon doubles title.
On the back of his tennis success he was made captain of Britain's Davis Cup team, and while leading a tour to the United States Woosnam was invited to Charlie Chaplin's Los Angeles mansion.
After beating the film star at tennis, Mr Collins said Woosnam further humiliated his host by beating him at table tennis - playing with a butter knife.
Mr Collins said worse was to follow as Woosnam pushed a fully-clothed Chaplin into his own pool.
In 1923, Woosnam broke his leg playing for Manchester City and it eventually led to his retirement from top-level sport.
In later life he worked for the industrial giant ICI, joining the board.
Max Woosnam died in 1965, aged 72.