Flood-hit Penrhyncoch scoops £160k Big Lottery Fund grant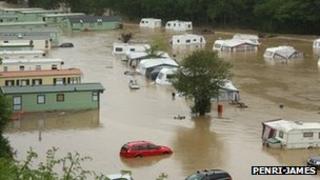 Villagers in a flood-hit community near Aberystwyth have received a £160,000 lottery grant to build a childcare nursery.
The Big Lottery Fund money will enable parents in Penrhyncoch to return to work, education or training.
People in the village had to be evacuated as rivers burst their banks last weekend. Heavy rain caused chaos in a number of communities in the area.
The scheme is one of 12 across Wales sharing more than £3m in funding.
More than £500,000 goes to a project to help homeless young people on Anglesey.
The new building will be built at Penrhyncoch primary school and is due to open next year.
It will provide daily breakfast and after-school clubs, caring for children aged between two and 11.
At the moment, the village nursery and the after-school club are based in dilapidated buildings.
The group behind the scheme, Cylch Meithrin Trefeurig, has raised £20,000 towards the project.
Delyth James is a local mother who submitted the lottery application and works as an assistant at the nursery.
"It's a bit of good news for this area after last week's floods. Lots of homes were affected in the Penrhyncoch and Trefeurig areas," she said.
"Without the grant from the Big Lottery Fund this wouldn't have happened.
'Vulnerable time'
"It's going to be incredible because the Ysgol Feithrin is currently based in a dilapidated community hall and the after school club is held in a crumbling portable building.
"We can offer longer hours of childcare so that parents can go to work or attend educational and training courses."
Meanwhile, homeless young people on Anglesey are among the other Big Lottery Fund beneficiaries, receiving £500,612.
Community group Digartref Ynys Môn Cyf will purchase and refurbish a building to provide specialist accommodation and support for homeless young people aged 16 to 25 who have special needs.
Looking forward to getting the project underway, Jen Saboor of Digartref Ynys Môn Cyf, said: "This funding will help develop a much needed service on Anglesey.
"It will fill an identified gap in current housing support services, providing many young people who have experienced constant exclusion and rejection with a stable, safe and supportive environment, encouraging them to make the right choices at such a crucial and vulnerable time in their lives."