Osprey chick dies at Dyfi reserve after bad weather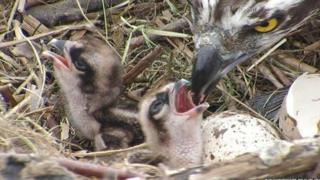 An osprey chick at the Dyfi Osprey Project has died following severe wet weather in mid Wales.
Just one chick - named Ceulan - remains after "indescribable conditions" battered the nest over the weekend.
The project, at the Cors Dyfi nature reserve near Machynlleth, Powys, is following the progress of a young osprey family which has featured on the BBC's Springwatch programme.
Originally, there were three chicks, but one died soon after birth.
A live web stream has been following the progress of the chicks that were born to two nesting ospreys called Monty and Nora.
'Surreal days'
Warden Emyr Evans wrote in his blog: "June 9th, 2012, was one of those strange, surreal days that will stay in the mind for a long time.
"A 5am look through the window confirmed the worst possible news - the most devastating summer storm to hit west Wales in living memory was still with us and that meant that torrential wind and rain had been falling on to the osprey nest for 24 hours non-stop.
"Turning the computer on then confirmed we had a power cut - the whole area was out."
Power was later restored, and it was discovered both chicks were still alive, but one died shortly later.
The remaining chick was also close to death, and its mother was not feeding it.
The project team then took the unusual step of intervening, removed it from the nest, and after feeding it by hand it regained strength and was returned.
The sex of the bird is not yet known.
On the decision to call it Ceulan, the warden wrote: "Our young osprey has survived one of the most devastating storms to hit this part of Wales in living memory.
"River and Cwm Ceulan were some of the worst areas affected.
"As we saw on Springwatch this week, a lot of the wildlife in the area has been wiped out, yet the residents of Cwm Ceulan survived to tell the tale. So did our young osprey."
The final week of Springwatch is broadcast on BBC Two Wales every night at 20:00 BST with the final programme on Thursday.