Third osprey chick to hatch at Dyfi reserve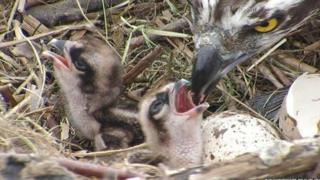 Conservationists face an anxious wait after a third egg hatched at the Dyfi Osprey Project in mid Wales.
Experts say it does not appear "too strong". The news comes after it emerged that the first chick born has since died.
It hatched at 09:38 BST on 28 May with the second egg following closely behind at 06:30 BST the following day.
Both chicks started feeding on a ready supply of fresh sea trout but the first born has since died.
Video of the new arrivals has been broadcast live to the nation on the first episode of BBC Springwatch 2012.
Earlier this month, osprey chicks hatched out at the RSPB Glaslyn site in north Wales and it is hoped that these recent arrivals will strengthen further the UK population of these rare birds of prey.
The chicks' progress can be followed via a live web stream on the Dyfi Osprey Project website.
On incubation day 40, warden Emyr Evans noticed small cracks developing in the first egg laid all the way back in mid April.
In his blog, warden Emyr Evans wrote: "By the time the Olympic torch had passed outside our Cors Dyfi reserve, the crack had become a little hole with bits of fragmented shell forming the rim. After that everything went bonkers!"
This is almost exactly the same pattern of events that unfolded a year earlier when the ospreys, Monty and Nora, bred at the Cors Dyfi reserve near Machynlleth.
The team are planning to name the chicks in a few weeks' time once the chicks have been ringed and sexes confirmed.