Spelling: Agnieszka Kolaczynska shines in World Education Games contest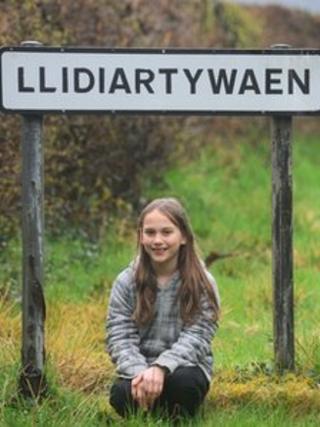 If anyone should be used to the daily challenges of spelling, it is Agnieszka Kolaczynska, from Llidiartywaen.
She says her name and that of Welsh villages like her own in Powys helped her in a global children's contest.
The nine-year-old beat more than 1.5m other youngsters in the World Education Games (Weg) spelling championships.
Home-schooled Agnieszka, who has Polish roots, had not sat a spelling test before, yet finished first in Wales, seventh in the UK and 31st worldwide.
"If you can spell my name, you can spell just about anything," said Agnieszka.
"After learning to spell Polish names and Welsh places, English is a doddle.
"I didn't really think about winning, but I'm definitely going to enter next year and definitely going to do even better."
Children from 200 countries took part in the event against the clock. Contestants were asked to fill in gaps in sentences with accurately spelled words which increased in difficulty with every round.
Words like abhorrent, communication and association were among those she navigated.
Agnieszka's mother, Anita Kolaczynska, is a former primary school teacher and has educated all three of her daughters at home.
Mrs Kolaczynska said: "We are really surprised and proud of her.
"I'd never taught her spelling, it's been a complete by-product. I did some with her when she was younger but she just didn't want to do it.
"So I've still got the book which has four words in from when she started.
"I didn't teach it because I didn't think it was important as these days there are things like spell check, so I thought other skills would be more useful.
"I knew she was good at it because she used to email my parents in Sierra Leone and I never had to tell her something was wrong."
'Deep learning'
Agnieszka has been known to read up to three books a day, with War Horse author Michael Morpurgo her favourite writer.
She has been taught to touch type and has been blogging about topics of interest to her for more than a year.
She hopes to be an author, artist and filmmaker when she grows up.
Agnieszka described her home education as "quite free" as she can focus on subjects which naturally interest her.
Her mother said home education had removed any restrictions from Agnieszka's learning.
"She has never got disengaged with her learning," said Mrs Kolaczynska.
"Anything she wants to do, she can see through. So it's deep learning.
"Whatever she likes she can investigate and it just goes on until she's satisfied. These days, with the internet you can access anything, but with a teacher in a classroom you have to wait for them to move things on."