Woman turns down new home offer from Aberystwyth Tesco developers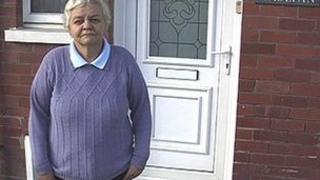 A woman whose home is standing in the way of a planned shopping development has vowed to stay put, despite being offered a new house.
Enid Jones was offered the deal by the developers who hoped she would give up her home in Aberystwyth.
The development, which includes a Tesco and a Marks and Spencer store, could result in the demolition of her terraced property and 11 others.
Developers Chelverton Deeley Freed said discussions were ongoing.
Mrs Jones fears that if she refuses to sign a deal, the developer will ask Ceredigion council to force her to sell up by applying a compulsory purchase order (CPO).
After an 18-month bidding process, the council announced it had selected Chelverton Deeley Freed to develop Mill Street car park.
Its proposals are to bring the town better car parking and shopping, while it is claimed that it could boost town centre trade by between £1.6m and £3.5m a year.
But according to the plans released by the council, they also require the demolition of Glyndwr Road, where Mrs Jones lives.
"I'm holding onto this house because I love my home. I'm not against the development, I just don't want to lose my house," Mrs Jones said.
She said the developers had offered to buy her a house in the town or build her a new property as part of a deal to persuade her to give up her house.
"I have looked at other houses, but I couldn't find anything suitable. I don't really want to leave my house though," she said.
She had a meeting with the council and the developers in January and February, when the offers were made.
Another was scheduled for March, but when Mrs Jones had been unable to find a suitable replacement property she cancelled the meeting.
She said talks between her, the developers and the council were now in "limbo".
Ceredigion council said Mrs Jones's solicitor had advised its officials that she did not want any more meetings with the developer.
A spokeswoman said: "Mrs Jones has been advised throughout the discussions that the developer may possibly request the council to consider the use of CPO. This scenario has not yet arisen.
"The council has made it known that the preferred developer remains open to discussion should Mrs Jones's position alter."
Mrs Jones said it was a worrying time, and she had gone to the expense of hiring a solicitor.
Diabetic since she was nine, she chose Glyndwr Road for its location.
The 56-year-old, who lives on her own, knew from local searches when she bought the 1930s terraced property that although Mill Street car park next door was earmarked for development, Glyndwr Road itself was not included in any plans at the time.
'Wheelchair'
"The house is so convenient," she added. "It has two floors, but I could live on one floor if I had to.
"I am diabetic and my eyesight is deteriorating and I might end up in a wheelchair in the future, who knows?"
Simon Morgan of Chelverton Deeley Freed said discussions about Glyndwr Road were ongoing, but he refused to comment further.
In a programme broadcast last November, BBC Wales' Week In Week Out followed Mrs Jones in her attempt to get more details about the plans.
The programme said nine of the 12 homeowners in Glyndwr Road had agreed to sell, but three had refused.