Brecon Beacons fence: Open Spaces Society opposes retention plan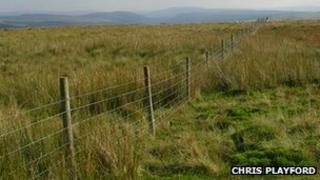 A pressure group is opposing plans to retain a four-mile (6.4km) fence in the Brecon Beacons, erected during the foot-and-mouth crisis 11 years ago.
The Open Spaces Society called the fence ugly and unlawful and said it should have been removed from the common land in 2006.
The Brecon Beacons National Park erected it as an emergency measure in the Hepste Valley in 2001.
Park officials said the fence was necessary to manage livestock.
Last September, the Welsh government ordered the removal of a fence of similar length in another area of the Beacons.
Graziers had argued that it was important if they were to manage the land effectively.
The Open Spaces Society said the fence in the Hepste Valley should have been removed by 2006, adding that the national park was refused planning consent for it in 2008.
The society's spokeswoman Kate Ashbrook said: "We are dismayed that the national park authority persists in trying to get consent for this ugly, unlawful fence.
"It has remained in place for 11 years, for many of them unlawfully. It's an eyesore in this magnificent landscape and an impediment to public access.
Ms Ashbrook said the national park argued the fence was necessary to manage the land, but she said alternative solutions should be found which were in keeping with the landscape and valuable public access of the area.
When foot-and-mouth disease arrived in Wales in 2001 every flock on the Beacons was culled.
The national park said it had been working with Manor Penderyn Commoners' Association and others on an application for the fence.
'Very tussocky'
A park spokeswoman said: "The fence will be retained to separate livestock between neighbouring commons and to provide a definable area for managing livestock.
"It will also help the national park authority fulfill its duty in carrying out habitat management actions to improve and conserve the biodiversity, historic environment, access and grazing quality of the common.
"Large parts of the common are very tussocky and difficult to walk and the retention of the fence will help us implement management actions to make wider public access easier in the longer term."
She said no public rights of way were affected by the proposal for the fence.