Ysgol Gynradd Ffynnonbedr sickness 'was norovirus'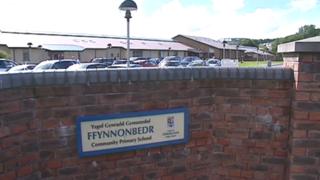 An outbreak of gastrointestinal illness at a primary school in Ceredigion was probably due to the winter vomiting bug norovirus, public health chiefs say.
A total of 180 pupils and 16 staff been affected Ysgol Gynradd Ffynnonbedr in Lampeter since early March.
Public Health Wales said 10 samples from all 368 pupils and 56 staff tested positive for norovirus and none for other bacterial or viral illnesses.
The school closed on Friday for a two-week Easter holiday.
Testing by Ceredigion council and Dwr Cymru has also shown no environmental cause for the outbreak, said Public Health Wales.
Dr Jörg Hoffmann, consultant in communicable disease control for Public Health Wales, said: "As well as issuing sample pots to children, we also issued questionnaires to gather information on where pupils had been and what they had eaten before becoming unwell, and received more than 330 responses.
"These, together with microbiological sampling and environmental sampling, have led us to believe that the cause of the outbreak is norovirus.
"We are optimistic that the outbreak is coming to an end, with very few new cases in the last two days, and we are hopeful that there will be no further cases following the Easter holidays."
Norovirus - which causes vomiting, stomach cramps, fever and diarrhoea - is easily spread from person to person.
Symptoms usually begin between 12 to 48 hours after a person becomes infected, with most healthy people making a recovery within one to three days.