Panto priest Dafydd Jones takes full-time job as clergyman in Ceredigion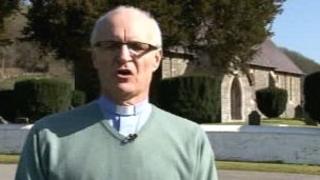 An actor who played a pantomime vicar for 23 years has taken on the role permanently as a fully fledged priest.
Dafydd Jones was in Theatr Felinfach's Christmas panto, near Lampeter, Ceredigion, where he also worked booking tickets and answering phones.
But in a twist of fate, he now finds himself playing the role for real as a curate at two parishes.
He was ordained a priest last year but kept his job at the theatre, becoming a full-time clergyman last month.
Mr Jones, 55, of Temple Bar, near Lampeter, has one year left as a curate and if all goes well he will be priest in charge of the rural parishes of Llangeitho and Llanddewi-Brefi, near Tregaron.
He left his job at the theatre after nearly 39 years when his religious calling "dramatically increased".
He confessed to missing the stage, but stressed his pantomime days were behind him.
"I was brought up to attend church and Sunday school, but I never imagined when I was playing a vicar that one day I would be one for real," said Mr Jones, who played a teacher for three years in the 1980s in the BBC's Welsh language soap opera Pobol y Cwm, shown on S4C.
"I miss the friends I made working on the pantomime and when we meet we always talk about the fantastic times we had.
"There's no comparison between playing a vicar and being one. Being a vicar is a very serious businesses, and I take it very seriously. I feel humbled at being chosen to do the work.
"When I did the pantos I was somebody wearing a mask."
He started playing the panto priest in December 1980. The scripts were written by local writer Euros Lewis, who based his production on local stories and history.
Mr Jones's comedy vicar wore a cassock that did not fit properly, which exposed his long johns underneath.
But by 1997, when he became a church lay reader, he was starting to think about a career change.
"I eventually made a decision to become a vicar after talking to my wife," said Mr Jones, who also played a priest in a Welsh language comedy for the BBC called Eistedd Dros Ddwr (Sitting Across the Water) in the 1980s.
Enjoyment
"In 2003 Euros stopped writing the pantos and I thought it this a good time to stop playing my character.
"I'd played him purely for enjoyment and I didn't disrespect the real role of a vicar."
The annual pantomime runs for 10 days at the beginning of December, attracting an audience of more than 250 every night.
Mr Jones started a course to become a Church in Wales priest in 2006. He was ordained a deacon in 2010 and then a priest last year.