Ysgol Gynradd Ffynnonbedr hit by gastrointestinal illness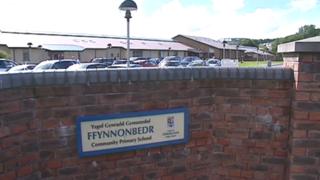 Public Health Wales is investigating an outbreak of gastrointestinal illness at a primary school in Ceredigion affecting 157 pupils and staff.
A total of 145 children and 12 staff at Ysgol Gynradd Ffynnonbedr in Lampeter have been affected since early March.
All 368 pupils and 56 staff are being asked to submit samples for laboratory testing if they develop symptoms.
The school will be closed voluntarily on Friday as a precaution and on Monday due to a scheduled inset day.
As yet we do not know what is causing this outbreak," said Dr Jorg Hoffmann, consultant in communicable disease control for Public Health Wales.
'Important'
"It is only through testing that we will be able to identify what organism is causing the illness."
No one has been hospitalised as a result of the outbreak.
However, gastrointestinal illness which causes sickness and diarrhoea can be serious, especially in children.
"It is therefore important that we find out what is causing the outbreak," Dr Hoffmann added.
Gastrointestinal illness can be passed from person to person and it is therefore important that anyone with symptoms observes good hygiene.
This includes hand washing after using the toilet and before preparing food, disinfecting toilet surfaces including flush handles and door handles and washing soiled laundry in as hot a temperature as possible.
Anyone who is concerned about their health can contact their GP or NHS Direct on 0845 46 47.