Powys and Ceredigion councils sign waste food deal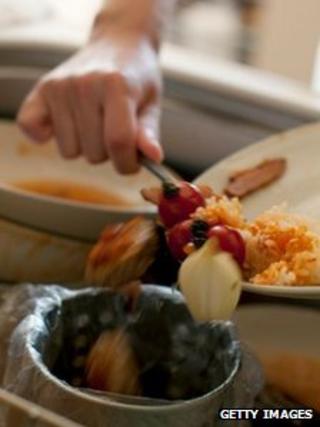 Two councils have signed a contract to turn people's leftover food into renewable energy and fertiliser.
Powys and Ceredigion councils aim to reduce the amount of waste being sent to a shared landfill site near Llanidloes, Powys.
Scraps will be collected from homes and taken to a special conversion plant.
The councils have signed a 15-year deal with Agrivert Ltd, of Oxfordshire, to recycle 10,000 tonnes of food waste a year.
The contract comes after a two-year bidding process and starts in November.
The two neighbouring local authorities have been working together as the Central Wales Waste Partnership.
The food waste will be treated by a process called anaerobic digestion, which will produce enough green electricity to power around 850 homes, while the fertiliser will be spread on farmland near the plant in Oxfordshire.
Huw Morgan, the officer responsible for the project at Ceredigion council, said: "This contract is a positive step in improving the environment for Ceredigion and Powys and it demonstrates what can be achieved by working together with our neighbouring authorities."
Agrivert's chief executive Alexander Maddan said the firm hoped to drive up recycling rates over the period of the contract.
The recycling contract is the latest development in a move by the two councils to form closer ties.
Last year, the authorities' social services departments announced plans to work together, while the highways departments already have close ties.