Aberystwyth scientists make bio-fuel genetic map breakthrough with miscanthus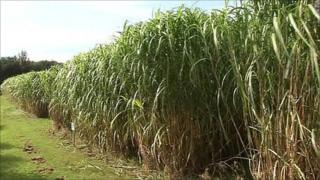 Scientists in Wales and the United States have joined forces to complete the first genetic map of a bio-fuel crop called miscanthus.
The crop is native to Africa and South Asia and can grow up to 3m (10ft) high.
The plant, also known as elephant grass, absorbs carbon dioxide but is expensive to grow large scale.
Researchers hope knowing more about its genetic differences will make it easier to produce and more commercially viable.
Miscanthus has shallow roots and the highest energy-giving properties per hectare of any bio-fuel crop. This means it does not penetrate waste within soil that is contaminated on brownfield sites.
It has been grown on a small scale across Europe for two decades, primarily for electricity generation, but mass production has so far not been viable.
It is hoped the breakthrough will make it quicker to develop the crop in future.
The collaboration was between the Institute of Biological, Environmental and Rural Sciences (Ibers) at Aberystwyth University and the Californian-based energy crop company, Ceres.
They hope their results provide a significant breakthrough towards advancing the production of bio-energy from miscanthus.
The team in Aberystwyth created the collection of genetically related plants, and Ceres then sequenced and analysed the DNA.
They identified thousands of genetic differences within the plant, called markers, and went on to create a blueprint of its "genetic alphabet" - which will help improve the crop.
Mapping project
Professor Iain Donnison, head of the bio-energy team at Aberystwyth, said the programme has provided new insight into the evolution of the species.
"This rich library of information took decades to produce in other crops, but with modern biology and genomics technology Ceres and Ibers have put together what I believe is one of the world's most comprehensive marker-based breeding programs in miscanthus," he said.
Ceres chief scientific officer Richard Flavell said the rapid improvements in breeding made possible by this mapping project are needed for miscanthus to be more widely used as an energy crop.
The mapping project has provided greater insight into how the elephant grass genome compares to other crop plants.
However, producing it on a large scale is not currently economically viable because it costs too much to make.