Centre for Alternative Technology to make redundancies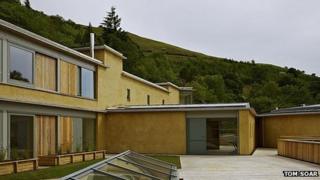 An eco-centre in Powys says it is to make a number of job cuts following a review.
The Centre for Alternative Technology blames the economic downturn, and said it was seeking voluntary redundancies.
CAT, which was founded in 1973 near Machynlleth, has not revealed how many of its 90 full-time staff would be losing their jobs.
In 2010, its employees voted to take a four-month pay cut of nearly 10% to safeguard the company's future.
Last month, CAT announced it had formed a strategic alliance with the University of Wales Trinity Saint David.
The Powys centre, which is a registered charity, has an environment school providing specialist postgraduate courses.
In a statement, CAT said: "With the need to place sustainability at the heart of how we plan for the future, the Centre for Alternative Technology has recently undergone an organisational review to better adapt to the changing financial climate.
"It has announced the commencement of a restructuring process to ensure its long-term viability, allowing the organisation to continue being able to inform, inspire and enable much needed solutions for a sustainable future.
"CAT, like many other charities, is experiencing the harsh effects of the global financial downturn."
It said a restructuring of its business would allow its vital and diverse work to continue.
CAT added: "With the restructuring process in its early consultation stage, CAT is seeking to mitigate the number and impact of redundancies through not filling vacant posts and calling for voluntary redundancies in the first instance."
The centre attracts about 50,000 visitors a year and employs about 120 full and part-time staff.
In June 2010, it opened its Wales Institute for Sustainable Education building, which includes a 200-seat circular lecture theatre.
Students can study courses about wind power, solar water heating and organic gardening there.