Borth coastal defence and surfing reef opens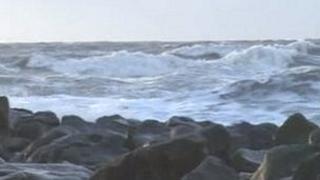 A multi-million pound project to help prevent flooding in a Ceredigion village and attract more surfers to the area is being officially opened.
Nearly 300,000 tonnes of rock have been used on a coastal defence and man-made reef in Borth, near Aberystwyth, with some shipped in from Norway.
The reef is 300m off the coast, and last year surfing schools said it would attract surfers from across the UK.
The £13m scheme is already said to have protected homes from flooding.
Last December, householders close to the sea said the new defences had already stopped two high tides spilling into their properties.
Borth is built on a shingle bank and has a long history of flooding, but it is hoped the work will protect residents for many years to come.
The scheme will be opened by Environment Minister John Griffiths.
Speaking ahead of the opening, Mr Griffiths said: "This scheme has given us the opportunity to work together to enhance the environment and amenities of this area.
"Through the construction of the multi-purpose reef, the tourism industry and the local economy is supported.
"This will be of particular interest to the many keen surfers that come to Borth each year."
Last year, surfing schools said the reef would attract enthusiasts from across the UK, and could ease overcrowding in other areas.
Councillor Ray Quant, the local member for Borth and Ceredigion council's deputy leader, said the community welcomed the coastal defence scheme.
He said it safeguarded the immediate future of Borth and allowed the community time to adapt and plan for "future sea level rise".