Waun Garno wind farm plan refused by Powys councillors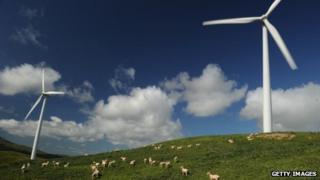 Plans for 11 wind turbines near Newtown have been refused after planners said the scheme would have a "significant impact" on roads.
Acciona Energy UK applied to Powys council to build 377ft (115m) structures at Waun Garno, Llawr y Glyn.
But councillors refused the plans after a report said access to the site would be via narrow roads, which would restrict the movement of large loads.
There were also concerns about the impact on the view and the landscape.
Opposition towards wind farms has grown in Powys since the National Grid announced plans to build a 19-acre electricity substation in Abermule, near Newtown, or Cefn Coch, near Llanfair Caereinion, last year.
The National Grid has argued that the current transmission network will need upgrading to handle the additional power generated by a new generation of more powerful wind turbines.
There are already about 200 wind turbines across parts of Powys, with reports that a further 600 could be built in the future.
Recommending the wind farm plans for refusal, thePowys council reportsaid: "The combined landscape impact, visual impact, biodiversity impact, cultural heritage impact, public rights of way impact, noise impact and highway impact of the proposed development is considered to outweigh the benefits of the renewable energy contribution of the proposed development."
The report added: "As an increased impact upon highways and structures would be generated from the above planning proposal, the cost of the additional maintenance and repair would be the responsibility of the developer and not that of the highways authorities.
"Furthermore, highway widening would involve land outside the ownership of the highways authorities and beyond the control of the developer.
Abnormal loads
"Any proposed wind farm development would thus have a significant impact on the highway network."
After the committee meeting, Acciona Energy UK issued a statement saying: "We are naturally disappointed with today's decision not to grant planning approval for the Waun Garno wind farm.
"We will now carefully review the grounds for this decision and consider our options going forward."
Concerns about transporting wind turbine parts to remote hillside locations in Powys was first raised in a council report in 2009.
It said narrow country roads would have difficulty coping with the trucks needed to transport such abnormal loads.
In January, business people in Newtown said they feared transport gridlock due to plans for wind farms.
But wind energy developers say any increase in lorries or large abnormal loads would be short lived, only happening during the construction phase.
Powys council streamed Tuesday's planning committee meeting live on the internet.