Ben Meakin: Mixed reaction in Aberystwyth to resignation from NUS post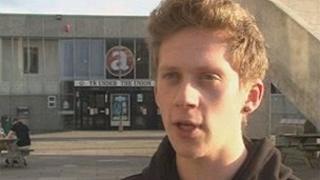 There has been a mixed reaction to a student leader caught on camera with a woman simulating a sex act on him.
Aberystwyth Guild of Students president Ben Meakin apologised and stood down from the National Union of Students' (NUS) national executive.
Social network sites are carrying varied opinions, including students dismissing claims he had been sexist.
The editor of the student newspaper said the reaction was "slightly over the top".
NUS Wales president Luke Young said on Tuesday that Mr Meakin had shown a serious lack of judgment.
Mr Meakin has been accused of sexism after a photograph from a student event at a pub on Sunday was circulated on the internet.
Mr Meakin has refused to say anything in addition to the apology he issued on Tuesday.
Steffan Storch, the editor of Aberystwyth University's student newspaper The Courier, broke the story about Mr Meakin.
Mr Storch said: "It was inappropriate for Ben to attend the event, but the reaction to the story has been slightly over the top."
It is understood that a drinking game was held in a pub following a women's superteams event where students were set sporting challenges.
"I'm told that there was one woman who didn't want to take part in what was happening at the pub and left, but those who remained took part freely," added Mr Storch.
The story has also been carried by a number of other newspapers and on the internet.
Mr Meakin announced via his own Facebook page that he had resigned from the NUS Wales executive committee.
The announcement attracted more than 80 comments, many of which dismissed claims that he was acting in a sexist manner.
'Fantastic work'
One stated that the woman pictured knew that the competition was being photographed and that the photos would appear on Facebook.
Another claimed she was in no way forced to take part in the drinking competition or was unhappy with her treatment.
There has also been reaction on Twitter.
Craig Williams tweeted: "Little evidence of 'actual' discrimination against women perpetuated by Ben. He's done fantastic work for aber guild."
Lee Irving added on Twitter: "It looks like the girls in it have freely joined in, Ben Meakin is drinking a beer, not forcing them."
But Nina G said it was "utterly shameful from someone in his (Meakin's) position".
NUS Wales women's officer Stephanie Lloyd said sexism on campus should never be tolerated.
"We must do everything we can to fight against it. Whilst Ben has joined our movement in the past, his recent actions are unacceptable," she added.
NUS Wales said the student event at the Aberystwyth pub was not held or endorsed by Aberystwyth Guild of Students. It added that the photograph of Mr Meakin had been circulated on the internet.
Mr Meakin is still the president of the guild of students, but its chief executive Geraint Edwards said it was investigating his participation in the event.