Dyfi Valley osprey nest cameras go HD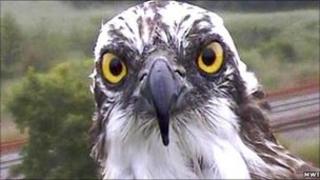 A man-made ospreys' nest built on top of a 50ft (15m) telegraph pole in Powys is going hi-tech.
Nest cameras at the site, near Machynlleth, are being upgraded to high-definition (HD) ahead of the birds' expected return next month.
People will be able to see the HD footage on large plasma screens at a nearby visitor centre and online.
Three osprey chicks hatched in the nest on the Montgomeryshire Wildlife Trust nature reserve last year.
They were thought to be the first ospreys to be bred in the Dyfi Valley in 400 years.
The three chicks were fitted with satellite trackers before they migrated to Africa. Their flight was followed by the BBC's Autumnwatch series.
Montgomeryshire Wildlife Trust now wants to upgrade the nest cameras before the birds return to mid Wales from their wintering grounds.
But HD cameras generate an enormous amount of data and the only way to get the nest images back to the visitor centre, 800m away, is via a fibre optic cable donated by Network Rail, which is responsible for the railway track near the site.
The wildlife trust's Emyr Evans said: "For years we have been waiting for technology to catch up with high definition nest cameras. Finally, over the last 12 months it's arrived.
"Network Rail has kindly donated the 800 metres of super fibre optic cable that we need to connect the cameras to our visitor centre and then to the world via live streaming on our website.
Osprey chicks
"Fibre optic technology will allow us to move vast amounts of video data in real time from the nest and this is possibly the first time this has been done in the UK."
Work installing the 800m is expected to start on Thursday with help from volunteers.
The three Dyfi Valley osprey chicks were named Einion, Dulas and Leri.
Einion is in Senegal and Dulas is in Guinea-Bissau. Leri's location is unknown because his transmitter sent its last signal from northern Senegal in November.
Montgomeryshire Wildlife Trust there were more than 200 pairs of ospreys in Scotland, but only a handful of nests in England and just two breeding pairs in Wales.