Wales Air Ambulance £600,000 Act Now appeal to replace mid Wales helicopter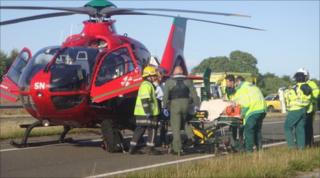 Wales Air Ambulance has launched a campaign to raise an extra £600,000 a year to upgrade one of its helicopters.
The charity's mid Wales helicopter is due to be decommissioned because it is 20 years old.
The extra money is needed each year to upgrade and maintain a more advanced model with the latest medical facilities and technology.
The air ambulance, which has three helicopters covering Wales, will have a £6m annual fundraising target.
An event was held at Gregynog Hall near Newtown in Powys on Wednesday to mark the launch of the Act Now appeal.
The charity raises all the funds required for the day-to-day running of rescues, with each on average costing £1,500.
The air ambulance crews are based in Caernarfon in the north, Welshpool in mid Wales and Swansea in the south.
Each crew has one pilot and two paramedics who are trained in pre-hospital emergency care.