Chester Crown Court tribute for Lord Emlyn Hooson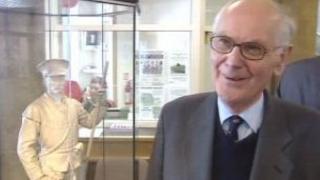 Judges, barristers and solicitors have paid tribute in court to the late Lib Dem peer and leading QC Lord Hooson, who died last week aged 86.
Lord Hooson was described as "a brilliant advocate" in a eulogy at Chester Crown Court on Monday.
The peer became a QC in 1960 and went on to become leader of the Wales and Chester courts circuit, and a deputy high court judge.
He has been described as the "founding father" of the Welsh Liberal Party.
Lord Hooson, who lived in Llanidloes, Powys, served as the Montgomeryshire MP from 1962 to 1979, and at various times was his party's spokesman in the Commons on defence, foreign and home affairs, legal matters, agriculture and Wales.
But he was also a leading light in the legal profession, and represented child killer Ian Brady in the Moors murders trial at Chester Crown Court in the 1960s.
Paying tribute, the Recorder of Chester, Judge Elgan Edwards, said Lord Hooson was a charming and modest man.
Judge Edwards, Judge Iain Trigger and Judge Philip Richards sat in court one together with a number of colleagues including barristers, solicitors and court staff for the tribute.
Judge Edwards said: "We were all very saddened to learn of the death of Lord Hooson of Montgomery at the age of 86 after a long illness.
"When he arrived in Chester, the Chester bar had about four practitioners, and when he tried to join one of the chambers, he was told that there was not enough work in Chester for another barrister.
"Undeterred he set up his own chambers at the age of 25 and took silk as a QC at the age of 35.
"That speaks volumes for the sort of man that he was."
He added: "He was a brilliant advocate, a charming and modest man, a family man."