Minister intervenes in Bronglais Hospital row with Hywel Dda health board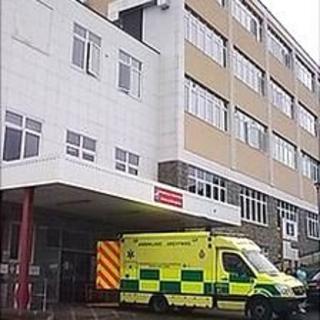 Health Minister Lesley Griffiths has intervened to try to defuse tension between a health board and doctors at Aberystwyth's Bronglais Hospital.
It follows a letter from senior medical staff who said they had lost confidence in Hywel Dda Health Board.
It also criticised its proposals for local services.
Hours before a public meeting about the hospital, Mrs Griffiths said she expected officials to listen and engage with clinicians and the community.
Consultants and specialists have said they do not believe the board is committed to delivering services locally and that its plans are contrary to those agreed with medical staff.
In response to last week's letter, the board said it "would not consider unsafe solutions".
The letter was addressed to its chief executive Trevor Purt, with copies sent to chairman Chris Martin and Mrs Griffiths, along with Ceredigion AM Elin Jones and MP Mark Williams.
BBC Wales understands it was been signed by 50 of the 60 members of senior medical staff at Bronglais, with five declining to sign and five others away from work.
A Welsh government spokesman said: "The Health Minister Lesley Griffiths has spoken to the chair of Hywel Dda Health Board, Chris Martin, to reiterate her expectation, the health board will listen to and engage with clinicians and the local community in drawing up their plans to improve services."
Plaid Cymru councillor Mark Strong, who represents North ward in Aberystwyth, welcomed the minister's intervention, but questioned the time it had taken.
"I understand the health board's position, although I disagree with its proposals. If it doesn't have enough money then it is going to look at making cuts," he said.
"Mrs Griffiths holds the purse strings."
Last week, Mrs Griffiths said she had not seen a copy of the letter.
Click here to view the letter in full
The signatories claim they were assured before the 2010 Welsh election that Bronglais would retain its existing services and expand into a regional district hospital for rural health care.
'Urgent care'
But they raise questions over the possibility that key services could be transferred to Carmarthen, after Hywel Dda health board published a consultation document on its clinical services strategy in December.
The board, which runs NHS services in Carmarthenshire, Ceredigion and Pembrokeshire, was reported in December to be facing a £4m shortfall for 2011/12 despite receiving an extra £33m from the Welsh government.
One proposal about accident and emergency services includes an option which would downgrade Bronglais to an "urgent care centre".
The concerned consultants claim the board's pledge that no-one should be more than 60 minutes from acute surgical or obstetric care may not be met, particularly for patients living north and east of Aberystwyth if such service are transferred away from Bronglais.
A public meeting to discuss plans for Bronglais will be held at Neuadd Goffa in Penparcau, Aberystwyth, on Friday at 19:00 GMT.