Centre for Alternative Technology joins forces with Trinity Saint David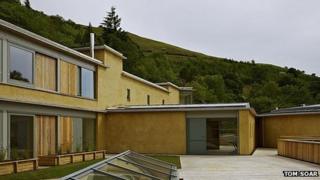 A centre championing green issues has joined forces with a university in an attempt to put the environment at the heart of learning.
The Centre for Alternative Technology (CAT), near Machynlleth, has formed a strategic alliance with the University of Wales Trinity Saint David.
The university said the partnership would provide new opportunities for research and development.
CAT has an environment school providing specialist postgraduate courses.
But CAT said it was too early to say if the collaboration would lead to new jobs.
In a joint statement, the two organisations said they had shared values and a joint recognition of the "urgent need to place sustainability at the heart of how we plan for the future".
They said their joint intention was to ensure everyone received the information and skills required to become responsible citizens in the 21st Century.
University vice-chancellor Prof Medwin Hughes said: "I am delighted that CAT has chosen to come into partnership with the University of Wales Trinity Saint David.
"We are ambitious for our students and committed to working with all sectors to actively support the sustainability agenda.
"This new partnership will enable us to enhance the learning experience of our students and provide new opportunities for research and development."
Dr Iolo ap Gwynn, chair of CAT's trustees, welcomed the collaboration.
"A much broader base will be made available for continued widespread development of courses and exploratory research at all levels."
CAT opened in 1974. It attracts about 50,000 visitors a year and employs about 120 full and part-time staff.
In June 2010, it opened its Wales Institute for Sustainable Education building, which includes a 200-seat circular lecture theatre.
Students can study courses about wind power, solar water heating and organic gardening there.
University of Wales Trinity Saint David formed out of a merger between Trinity College, Carmarthen and the University of Wales Lampeter.