Aberystwyth University plans to cut six posts in estates department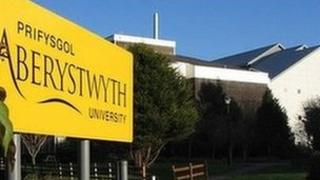 Aberystwyth University has announced plans to cut six posts in its estates department following a review.
It follows an inquiry launched last year into the department's "commercial and operational" activities, but the job losses are not linked to this.
The university said a consultation process with staff and trade unions had started.
On Tuesday, it announced it would be creating 27 new academic positions in a recruitment drive.
The university said it had ambitious plans for the development of its estate to "improve the student experience".
The proposed changes reflected the plans and the need for greater flexibility in the way repair and maintenance services were provided, it added.
Rebecca Davies, pro vice-chancellor with responsibility for student and staff services, said: "Six months ago, the university undertook a review of the estates department to consider its future shape and direction.
"Following the completion of the review, the university is now embarking on a programme of restructuring that is designed to improve the overall service it provides.
"The proposed changes in working practices may lead to the loss of six posts, which we greatly regret."
Ms Davies said the university would do everything possible to mitigate the effects on individuals and would offer them a range of support, such as voluntary severance and early retirement schemes.
Accountants Deloitte and London-based legal firm Eversheds are helping with the internal inquiry into "commercial and operational" activities in the estates department, which is expected to end soon.