Newtown YouTube video uses Ghost Town song to highlight problems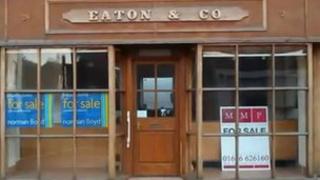 The Welsh government is being urged to help halt a Powys town's economic decline after a video highlighting its problems was posted on YouTube.
The video uses The Specials' hit Ghost Town and features pictures of firms that have closed premises in Newtown.
In a question to the first minister in the Senedd, Montgomeryshire AM Russell George urged Carwyn Jones to watch the video.
The Welsh government said Mr Jones was aware of the issues facing rural areas.
The video was posted under the name CutPryce on Sunday.
Like many towns in Wales, Newtown faces competition from out-of-town supermarkets, internet shopping and larger towns with a better range of high street stores.
It has also been hit by the credit crunch and has long-running traffic problems, which some claim deter shoppers from entering Newtown.
The chamber of trade reformed recently in an attempt to revive the town centre's fortunes, and the Welsh government has announced plans to include Newtown, along with Brecon and Llandrindod Wells, in its business growth zone scheme.
But Mr George, a Conservative, said action was needed immediately.
"I am obviously grateful to the business minister for examining the potential development of business growth zones in mid Wales, but the government needs to get on with it because towns like Newtown are rapidly turning into ghost towns," he said.
"The fact is that there are a number of businesses closing their doors on a weekly basis and the video posted by one local resident known as CutPryce, has really put the economy of the town into perspective.
"I recommend that the first minister look at the YouTube video because it clearly demonstrates the need for urgent action to stop the town's decline."
A Welsh government spokesperson said: "The first minister is well aware of the problems facing rural towns and villages.
"We see town centres as the heart of sustainable local communities - providing places to shop, do business and socialise.
"Our commitment to regenerating town centres is reflected in a range of programmes from the historic and built environment, housing, business support, transport and tourism."
Newtown's deputy mayor and retired market trader Phil Watkins, who reformed the chamber of trade, described the situation in the town centre as "bleak" in December.
A bypass is planned for the town, but it could be 2014 before it is built.
BBC Wales tried unsuccessfully to contact CutPryce.