Charles Dickens: National Library of Wales has writer's cheque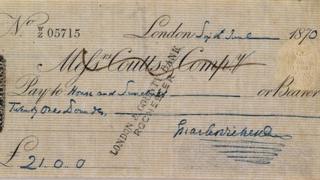 As the world marks the 200th year since the birth of Charles Dickens, the National Library of Wales can say it holds some of the last words he wrote.
The library in Aberystwyth has a cheque from the novelist for £21 from 6 June, 1870, three days before he died.
Dickens is said to have cashed it in Rochester, Kent, while carrying out research for his final novel, The Mystery of Edwin Drood.
It had belonged to a Pembrokeshire historian, who died in 1957.
Arthur Leach, who was born in Tenby, bequeathed the cheque to the library, along with a number of other items, but it is unclear how he acquired it.
A number of events are being held on Tuesday to celebrate the anniversary.
Bangor University is showing two rare and early film adaptations of his works: Scrooge, Or, Marley's Ghost, a three-minute short from 1901, and a 1909 nine-minute version of Oliver Twist.
Dickens had few connections with Wales, but did report on the sinking of the Royal Charter ship off Anglesey in October 1859, when he was a journalist.
Bangor will also host readings from some of his works, including The Shipwreck, which is believed to have been inspired by that visit to Anglesey.
Dickens was born in Portsmouth on 7 February, 1812, and died on 9 June, 1870 after a heart attack.
He remains one of the world's most celebrated authors, with many of his books adapted for film and television countless times, including an adaptation of The Mystery of Edwin Drood on BBC Two last month.
The National Library of Wales discovered the Dickens cheque while searching its archives.
Manuscripts librarian Dr Maredudd ap Huw said: "The National Library of Wales doesn't hold a great deal of items connected with Charles Dickens, but when I started digging I found a cheque that he cashed on 6 June, 1870.
"So what did he do in that last week of his life? We know he was writing his last novel, The Mystery of Edwin Drood.
Global festival
"On the Monday (6 June) he went to Rochester and he was seen leaning against wooden railings, looking at the manor house.
"He was obviously doing some research for Edwin Drood and he cashed a cheque in Rochester and that is in the National Library of Wales."
According to the Measuring Worth website, his £21 cheque would be the equivalent today of about £1,570, using the retail price index.
The Coutts Bank cheque was made payable "to house and sundries" and was written and signed by Dickens.
Dr ap Huw added: "On the Wednesday, after spending all day writing, he had a stroke and never recovered.
"The cheque is a wonderful memento of that crucial part of his life, and along with that we also have a first edition of The Mystery of Edwin Drood in six [monthly] parts."
A global festival, Dickens 2012, is spanning more than 50 countries and is encompassing literature festivals, film screenings, theatre shows and teaching initiatives.