Bronglais Hospital consultants 'lose confidence' in Hywel Dda health board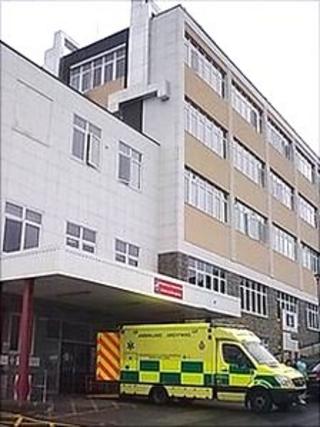 Senior medical staff at Bronglais Hospital, Aberystwyth, say they have lost confidence in their health board.
A letter signed by a majority of consultants and specialists criticises Hywel Dda Health Board's proposals for local services.
They say they do not believe the board is committed to delivering services locally and that its plans are contrary to those agreed with medical staff.
The health board said it "would not consider unsafe solutions".
Health Minister Lesley Griffiths said she had not seen a copy of the letter.
Click here to view the letter in full
The letter was addressed to Hywel Dda chief executive Trevor Purt, with copies sent to chairman Chris Martin and the minister, along with Ceredigion AM Elin Jones and MP Mark Williams.
BBC Wales understands it has been signed by 50 of the 60 members of senior medical staff at Bronglais, with five declining to sign and five others away from work.
The signatories claim they were assured before the 2010 Welsh election that Bronglais would retain its existing services and expand into a regional district hospital for rural health care.
But they raise questions over the possibility that key services could be transferred to Carmarthen, after Hywel Dda health board published a consultation document on its clinical services strategy in December.
The board, which runs NHS services in Carmarthenshire, Ceredigion, Pembrokeshire and Powys, was reported in December to be facing a £4m shortfall for 2011/12 despite receiving an extra £33m from the Welsh government.
'Multiple repercussions'
One proposal about accident and emergency services includes an option which would downgrade Bronglais to an "urgent care centre".
The concerned consultants claim the board's pledge that no-one should be more than 60 minutes from acute surgical or obstetric care may not be met, particularly for patients living north and east of Aberystwyth if such service are transferred away from Bronglais.
The letter says: "The proposal to remove any service is at odds with the ethos of keeping care local, and will have multiple repercussions.
"It is frankly dangerous to rely on the availability of an ambulance, let alone a helicopter, for a truly urgent transfer. It is sometimes impossible even now to get a blue light ambulance when required.
It concludes: "In short, we have lost all confidence in Hywel Dda Health Board's commitment to support us in delivering the services we provide locally."
'Huge rebellion'
Responding to a question from Elin Jones during health questions in the Welsh assembly on Wednesday, Ms Griffiths said she had not seen a copy of the letter but indicated she would respond when she did.
Conservative Darren Millar said: "This is a huge rebellion against proposals for the future of healthcare in the region.
"It seriously calls into question the direction of travel of the NHS in Wales and calls into question the way in which the health minister is managing the health service.
"Hywel Dda Local Health Board is being forced into extremely difficult decisions that will force patients to travel much further for treatment and it is no surprise that senior staff at Bronglais feel an urgent need to speak out."
Tony Chambers, the health board's director of planning, performance and delivery, said: "Our services must meet safety and quality standards and we would not consider unsafe solutions.
'Alternative solutions'
"Absolutely no decisions have yet been made, but we are clear that no change is not an option. Any final service models proposed will need to improve both the quality of services and outcomes for patients.
"We are disappointed that consultants have decided to air their views in this way. There has already been a long process of engagement with senior clinicians from across our three counties.
"Our clinicians are free to express their views and any viable alternative solutions put forward will be considered by the health board along with all other feedback."