Kathy Woodyatt's Recycle Your Wig to help children with cancer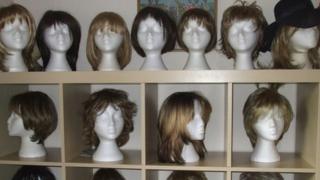 A woman with cancer who loans wigs to others with the disease is to start helping children who lose their hair.
Kathy Woodyatt, 50, from Newbridge-on-Wye, Powys, was "devastated" when she lost her hair after treatment for lung cancer two years ago.
It inspired her to start collecting wigs for women, which she has hired out free for about two years.
She now wants to help children with cancer-related hair loss, and is appealing for suitable wigs.
Mrs Woodyatt has about 60 in all shades, lengths and colours, with seven currently out on long-term loan. She also hires out head scarves.
'Loss of dignity'
She cleans the wigs, and has helped about 15 women so far, and wants to expand her Recycle Your Wig project to include children.
Mrs Woodyatt said hospitals loaned out wigs, but some people wanted a choice of different styles and lengths which sometimes was not available.
"For a woman, losing your hair means a loss of dignity," she said.
"I was so shocked when my hair started coming out and it knocked my confidence. When I found a decent wig it gave my confidence a boost and generally gave me a lift.
"Now I'd like to help children. It's something I've been thinking about for some time."
The first sign of Mrs Woodyatt's illness was poor handwriting, but she thought she was suffering from stress.
Secondary cancer cells were found in her brain and a primary tumour was discovered in her lung.
"I was told I would probably lose my hair and, because of the type of chemotherapy and radiotherapy I was having, I was told it would probably never grow back," she said.
"I had a shower and my hair was coming out in clumps - I got really upset. On the way to the hospital, a clump came out in my hand and I was crying.
"Thankfully, two years on my hair has grown back, but I still have the tumour. My treatment has shrunk it, but it's attached to an artery so it's inoperable."
Touching letters
Before her treatment, Mrs Woodyatt thought she would be able to walk around without hair, but discovered she could not do it.
Her first wig was provided by Nevill Hall Hospital in Abergavenny, but if she wanted a different colour or style she had to pay, with prices starting from about £60.
This inspired her to start offering cancer and alopecia sufferers the chance to benefit from the boost that a wig can bring.
She put up posters at GP surgeries, the local branch of the cancer support charity the Bracken Trust, left postcards in shops and put a small advertisement in local newspapers.
"The response has been amazing," she said.
"I try to find out before someone comes to try on a wig, what their natural colour was and how their hair was before, and then I put some similar wigs on display," she added.
"If they come with a partner or friend I leave them to try them on, or if they want help, I am on hand. It's been lovely to hear people having a giggle while trying the wigs."
Mrs Woodyatt has received some touching letters from people.
"One lady from Kent sent me seven wigs after her daughter died in her 20s from cervical cancer," she said.
"She said her daughter had had great fun with the wigs and hoped they would bring fun to someone else."